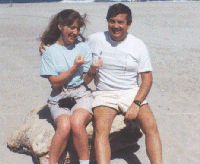 IslandDave and friend Janice at the Beach
<640 X 480>
IslandDave's Official Bio Page
Ok, here it is, IslandDave info:
I grew up in Chester County, Pennsylvania and graduated from Downingtown High School. Earned a B.A. in Math at West Chester University and then did a hitch with the USAF as an Air Traffic Control Officer stationed at KI Sawyer AFB, MI and U-Tapao, Thailand. Quit the Air Force and opened a couple of music stores in Marquette, a small town in Michigan's Upper Peninsula where I lived for over 10 years. I grew tired of long harsh winters though and sold business and home to seek my fortune in Florida

. Fortune eluded me in Florida, but I loved it anyway. Although I am now living in Kansas for a while for my family, I consider myself a Floridian because the climate and lifestyle of that state appeal to me most. Eventually, I will move back to the Sunshine State; who can resist those postcard Florida sunsets

?
As my nickname suggests (IslandDave), I enjoy warm climate islands. I have been to scenic islands like Maui, Kauai and Hawaii, fun islands like Key West, Jamaica and the Bahamas, and laid back islands like my favorite, Nevis in the warm waters of the Caribbean. I love traveling and exploring; if I was wealthy I would probably never stop.
This middle-aged single guy works by day for AMA, a worldwide seminar company, as the Project Leader, Web Site Development for the Kansas City office. In the evenings, weekends and just about every other waking moment, I am working on my website, and designing webpages for home-based businesses through my online company, IslandWeb Ventures.
I am writing HTML code, designing and laying out pages, developing online marketing strategies and doing lots of research. My other interests include alternative and blues music, classic movies, hiking, museums, Asian cuisine, travel and writing. While I enjoy single life, I like making new friends, especially with women sharing similar interests.
(hint: drop by and say HI! ) -
. . . .


| | |
| --- | --- |
| Date of last revision: Nov 1, 1997 | Copyright © 1999,2000 IslandWeb Ventures |
| | All Rights Reserved |